My paintings are windows to a paralel world where I am able to use and combine diverse moments and experiences of my past, present and perhaps even future, re-aranging them and placing them in a more pleasing way than reality allows.
Through symbols, shapes, structures, color and space I emulate these experiences and moments, distorted and embellished by memory, emotion and other mental processes.
The text, when present, is referent to diverse themes that interest me, such as literature, politics, history, spirituality, art, personal madness, graffiti and measurement.
Some of the visual elements in my work are also influenced by my shamanistic and psichotropic journeys.
The architectural element in my work is influenced by my obsession with theatre stages and the architecture of old cities, such as my native Lima, Ciudad de México where I lived for a year, the cities I visited in Europe, and by cities that I have only visited through literature or film.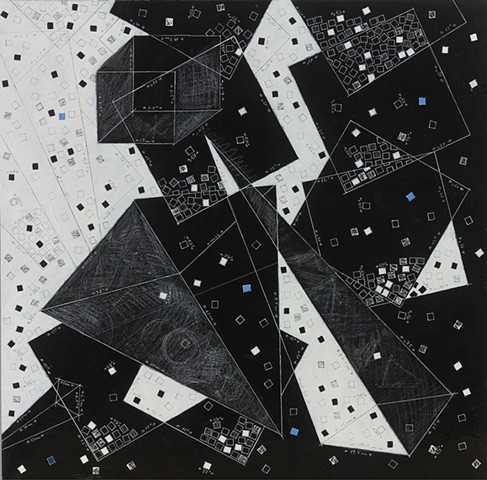 Viaje Astral (Astral Projection) / 44"x43" / Mixed Media on Canvas